Wings XP Puncher Embroidery Software
Wings´ XP Puncher gives you full control over every aspect of the digitizing process, allowing you to offer faster turnarounds on top-quality digitizing. Loaded with time-saving tools such as auto smoothing of uneven stitches and advanced stitch parameter controls, Puncher has what you need to produce exceptional designs in less time.
Wings´ XP Embroidery Software
PUNCHER LEVEL
List:

$3,995
Your Price: $1,495
Buy It Online
GET IT ALL FOR ONE LOW PRICE


Wings´ XP Puncher
includes auto-smoothing of uneven stitches, advanced nodes editing, branching, and tons of other tools and features not found in lower levels, you can create more intricate embroidery designs in less time. Puncher is a perfect solution for the digitizing service that wants to offer the fastest turnarounds on top-quality digitizing.


Toll Free Phone Support
- Whether it's a quick question about how to perform a specific task, or detailed help with installing or registering the software, feel secure in knowing that you have unlimited technical support that's just a toll-free phone call away! Call
800-330-3867
(Option 2) Monday through Friday, 8:30 AM to 5:00 PM CDT (Central), excluding major holidays.


Interactive online technical support
is easy and hassle-free! This is live interactive support with a software technician, not a pre-recorded session. The software technician will connect to your computer over the internet and you can actually watch him work on your computer!


Internet-based one-on-one training is included
, plus additional training and support is available at the
MESA Training
website where you can access helpful videos and documents at any time, on any device.
Wings' XP Puncher Features
Note: Highlighted features are not available in previous levels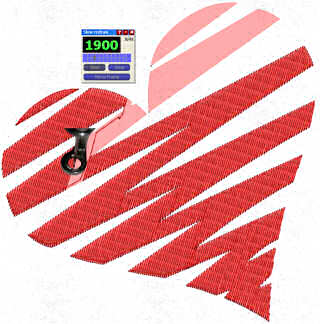 Slow Redraw lets you simulate the way the design will be embroidered by setting the speed of your machine, and can be used to calculate the length of time required to embroider the design.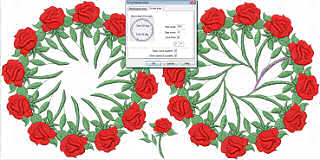 Create stylish designs with the Circular Array tool - any change made on a single object is automatically applied to the entire array.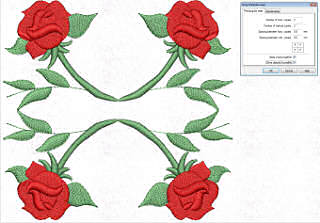 Rectangular Array gives you the ability to rotate and mirror the copies of the array without losing the ability to edit them. You can also create clones that will reflect transformations made to the source design.

The Weld Tool lets you weld two or more objects to create a new unique shape.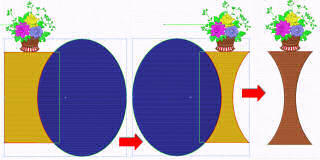 The Trim Tool lets you reshape your designs by removing unwanted parts and is useful for creating new and unique shapes.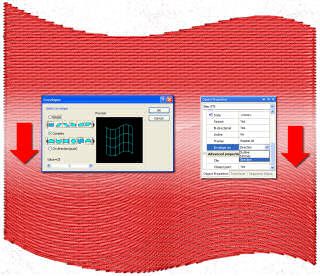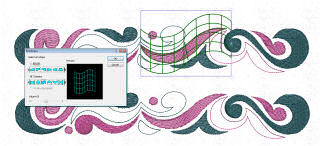 By applying the Envelope Tool with a curved shape to the direction of the stitches you can curve the direction of the stitches.
Apply curved envelope to make curved stitches

Continuous design preview

Copy attributes from one object to other(s)

Right-click menu available even with multiple selections

Envelopes applied on shapes, stitches, or directions

3D workspace
Apply 3D effect
Slow redraw - simulate sew-out
Docking toolbars
Sequence Manager shows Backrops icons
3D visualization in 2D and Photorealistic mode showing thread twisting
Set light source and intensity
3D realistic fabrics
Transparent rulers
Unicode font support
Apply 3D embroidery effect to any design
Customizable tool color schemes
Clear all transformations to return to original state

Digitize satin, zig-zag and piping by defining only the outline of the object

Auto digitize satin, zig-zag and piping and add directions and divides at the end

Auto smooth uneven stitches

Advanced stitch parameter controls

Advanced nodes editing with extra abilities

Step pattern editor

Digitize with branches

Convert between stitch types

Add sections to existing embroidery objects

Create borders automatically

Add special effects

Knife for splitting objects in stitch files

Reverse sewing direction

Easy 2-point copy of objects

Alignment abilities between objects

Auto density adjustments when resizing stitch designs

Smooth stitch file outlines

Convert stitch design to outline designs

Convert step to satin for stitch designs

Multi design output & catalog

Print catalog

Random stitches

Running repeat offset

Satin serial offset control

Branches

Auto pilot while digitizing

Fill pattern editor

Transform-alignment

Variable pitch control

Closest point control

Spitz stitch control (corner compensation)

Satin fill /ceeding (auto-split)

Repeat

Customize the working area

Control the working area with image map toolbar

Use hot keys for quicker response and design creation

Insert comments to objects

Select/hide by objects

Select/hide by color

Select/hide by special functions

Show embroidering sequence

Re-order objects on sequence manager

Use guidelines while digitizing

Load, save color palette and background color

Use magnifier to view your design better

Send design with email

Convert vector artwork into editable embroidery designs
Convert .jpg or .bmp images to cross stitches
Add new text string to existing design
Add path
Adjustable Grid, Crosshair
Automatic density adjustment during size changes
Break Apart Text string
Bezier curves
Create new design (only text string)
Compensation for satin, step
Change step angle of text
Change text setting (typeface, text)
Change color, background color
Change Start and End of design
Change density, stitch length
Clipart tool to insert designs
Choose/change from full range of underlay stitches
Duplicate text string
Design Redraw
Envelope, Lettering in predefined shapes
Floating, dock-able tool bars
Full automatic corners (corner on/off)
Half pitch compensation
Name drop
Includes 49 pre-digitized fonts
Invert selection
Join Sections (to branches)
Reorder sequence of text string
Resize, Rotate, distort letters of text string
Ruler, Measure
Outline node editor
Online help
Advanced hot keys
Left, right, center and stretch justification
Lettering with automatic, adjustable kerning
Lettering with intelligent closest point connection
Lettering in line, arc, circle with rubber band
Load, save color palette
Show stitches
Show stitch and block Shadows
Show embroidery sequence
Shrink/Grow, stretch, rotate, slant, text using handles
Special Functions tool bar
Short/Long stitches
Sequence Manager display letters
Print with technical information
Print in catalogue presentation
Print preview
Place guideline by drag and drop
Punching tools options (to create text string)
Thread trim between letters
Temporarily hide rollups
Unlimited text string distortion
Undo, redo, cut, copy, paste, unselect, select all
Move, delete, insert stitch
Movable entry, exit point of text string
Multi-line, multi-color text
Zooming tools
Editing Tools:
Trim objects and remove overlaps

Fill area with sequins

Weld two or more objects to create new unique shape

Circular array tool
Rectangular array / Kaleidoscope
Transform is activated when multiple nodes are selected
3D look in node editor
Import these graphic file types: gif, tif, bmp, pcx, eps, ai, dxf, plt, jpeg, cmx, emf, psd
Backdrops / twain interface (scanner)
Straighten bitmap
Outline node editor
Join & break apart objects
Move outline
Erase outlines
Group / ungroup objects
Apply functions to multiple objects at once
Make arrays of your designs
Move, rotate and scale the designs
Merge object design
Digitizing Options:
Convert font symbols to perfect embroidery stitches

Automatically convert images to embroidery
Adjust Bezier curves during digitizing
Automatically convert image to photostitch
Click and drag mouse to input direction
Font creator and editor
Insert shape (circle, box, ellipse, polygon, etc.)
Use ole-2 technology to incorporate CorelDRAW® tools in digitizing
Add new object to end
Auto-branches
Snapping on/off
Available stitch types and stitch parameters
Satin stitch type parameters
Set the percentage of random width of stitches
Specify the side that the random width will be applied
Specify how the pattern will be applied on satin objects
Change the length of pattern
Balance density sensitivity with variable pitch
Make high quality corners with spitz stitch
Add closest point connection between objects
Adjust density
Choose underlay
Add / remove fix/lock
Enable / disable corners
Increase / decrease compensation
Add short/long technique
Add half-pitch compensation
Step stitch type parameters
Adjust density
Choose underlay
Add and remove fix / lock
Enable and disable corners
Increase and decrease compensation
Add short and long technique
Add half-pitch compensation
Piping stitch type parameters
Adjust density
Add / remove fix / lock
Change stitch length
Zig-zag stitch type parameters
Improved zig zag stitches
Adjust density
Choose underlay
Add / remove fix / lock
Enable / disable corners
Increase / decrease compensation
Add short / long technique
Add half-pitch compensation
Photo Stitch parameters
Photo stitch with CMYK (4 colors)

Change photo-stitch width

Change photo-stitch density
Satin serial stitch type parameters
Add offset
Set the percentage of random width of stitches
Specify the side that the random width will be applied
Specify how the pattern will be applied on satin serial objects
Change the length of pattern
Balance density sensitivity with variable pitch
Make high quality corners with spitz stitch
Add closest point connection between objects
Adjust density
Choose underlay
Add / remove fix/lock
Enable / disable corners
Increase / decrease width of stitches
Add short/long technique
Add half-pitch compensation
Generate as zig-zag serial
Running stitch type parameters
Add offset in running
Specify the times you want running to be repeated
Set running to be embroidered with random length
Add closest point connection between objects
Change stitch length
Add / remove fix/lock
Place sequins on the design
Change sequins holding technique
Define the number of sequins you want to skip
Manual stitch type parameters
Cross-stitch stitch type parameters
Specify the number of repeats
Enable short / long stitches
Add closest point connection between objects
Define cell width of crosses
Define cell height of crosses
Add / remove fix/lock stitches