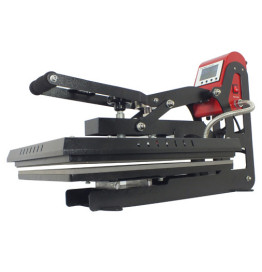 View/Print Brochure
Heat Tech MAX Hover 16 x 20 Auto open heat press. The Hover Heat Press has all of the features a clam style heat press plus an upper platen that hovers over the garment to ensure brighter colors and a stronger bond between ink and the garment. Can also be used for any type of traditional heat-applied graphics.
The Heat Tech MAX also features a magnetic assist lock down, auto open feature, digital time & temperature controls, cycle counter for tracking production quantities, two modes - one for contact and the second for pressure, quick-change lower platen, non-stick coated heater - stress relieved to prevent warping, cast-in tubular element every 2.5" to eliminate cold spots, heavy-duty pin & bushing pivot points, 3/4" upper flotation heat platen, and wide opening for easy layout.
Price: $995.00
Heat Tech 15 x 15 Auto Open clam-style heat press. With a top protective cover. Hands free opening saves you time and effort.
Quick disconnect design allows the plate to be changed in less than 5 minutes. The Max 15 is ideal for transfers to T-shirts, jackets, tiles and more.
Other features include a draw-out heat platen, auto open, digital temperature & time control, and an automatic alarm.
Price: $795.00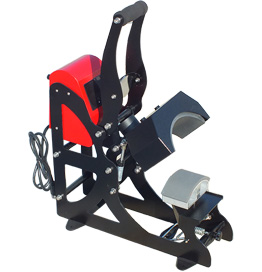 Heat Tech MAX Cap press auto open heat press. Durable cap press with digital time & temperature control. The auto open feature enables you to multi-task and help avoid over-application. Optional 4 different size exchangeable under plates for heat pressing on different size caps, including low-profile, oversize, and full or low crowns.
Other features include an emergency open button, changeable under plate, gas spring control, electro-magnetic pressure system, auto-open after the timer cycles out, and 4 different sizes base plate.
Price: $795.00